The Rallye Advantage at Rallye BMW in Westbury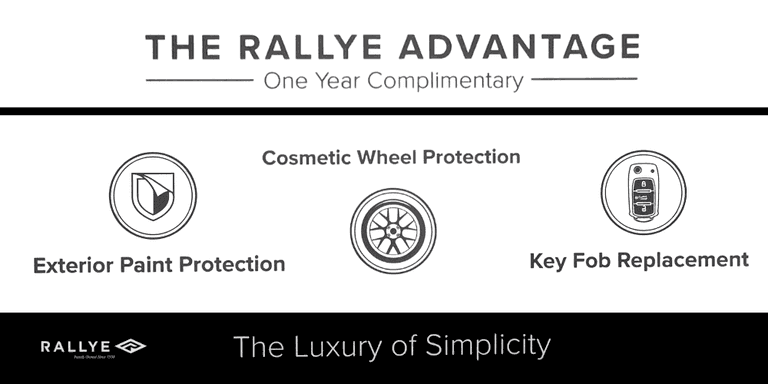 ---
At Rallye BMW, we know that finding the right car can be difficult. You have your preferences, current lifestyle, and also a specific budget. Our goal is to help you find the best choice for your needs without breaking the bank. At the same time, we know that you want a dealership geared for the long haul.
That's why Rallye BMW has something called the "Rallye Advantage" featuring three unique policies that are good from one year after you purchase your vehicle. Find out below and browse our online inventory for your next BMW selection.
Complementary Cosmetic Wheel Protection
With Factory-Installed Aluminum Alloy Wheels, you can protect them from scratches and other damage that might occur while driving around Syosset. Eligible for one year after your purchase, ask your Sales Consultant about upgrading the terms of this protection for 60 months. That's five years of quality protection on your BMW!
Complementary Key Replacement
If one of your keys or remote starters is damaged, lost, or stolen, Rallye BMW will replace it up to one year on from your purchase. If you're interested, ask your sales consultant about upgrading to this, whether you're leasing or financing.
Complimentary Paint Protection
When selecting a new car, one of the most important aspects is the color we choose. Whether it's because it suits our mood, personality, or would just look great on Roslyn roads, it's an important aspect.
To that end, we offer one year of Complimentary Paint Protection. Using a process called Repel, a non-toxic, partial, ceramic chemical, this is applied to your vehicle to reduce fading, oxidation, or loss of gloss due to everything elements. Whether it's insects, bird poop, tree sap, or icy rain, this can keep your vehicle looking nice and new for a long time. As always, ask your Sales Consultant about this option.
Learn More From Rallye BMW in Westbury
If the Rallye Advantage is something you want with your new BMW, Rallye BMW is here to help. Call us at (516) 226-7651, or fill out our online contact form, and we'll get you behind the wheel of your next vehicle. We look forward to seeing you and providing everything you will need!