Explore BMW's Innovative Electric Side with the i3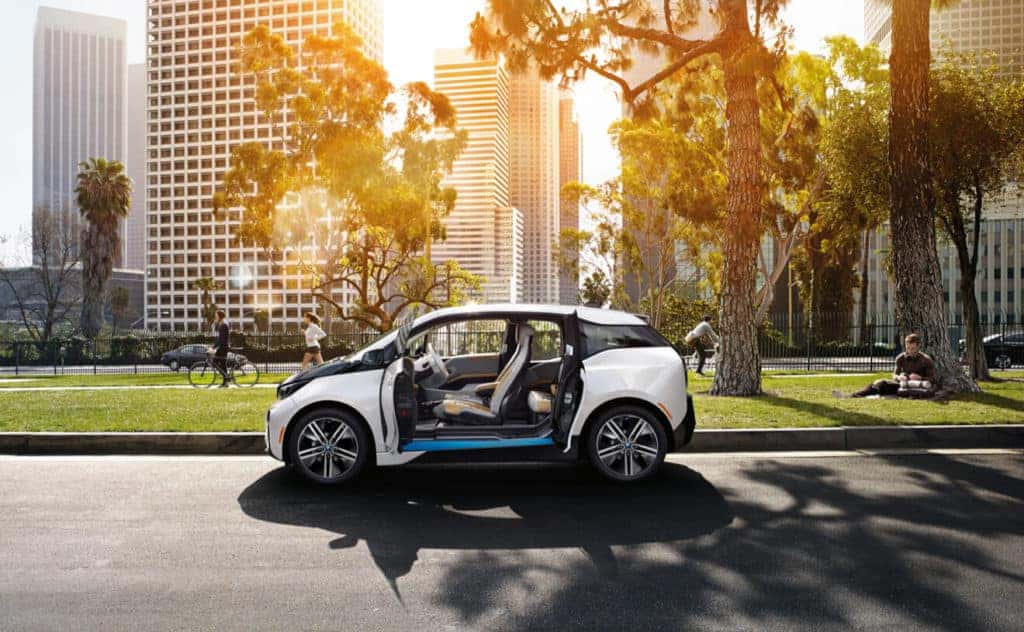 The BMW i3 is a fully electric vehicle that not only saves you money on fuel, but still retains the power, luxury, and style that you expect from BMW. It is the smallest electric vehicle available in the BMW fleet, and it's perfect for zipping around busy city streets and fitting into any parking spot with ease. See what the i3 brings to the table below.
Power-Up
The BMW i3 was made to utilize the vehicle's battery power from every angle. You can get from zero to 60 miles per hour in 6.6 seconds. You also get plenty of mileage out of the battery with the ability to drive up to 185 miles without ever pulling over to re-charge. Of course, the battery life, just like fuel consumption, depends on weather conditions, usage of heat and air conditioning, and driving behavior.
If you're worried about spending hours waiting for the car's battery to charge, have no fear. You can charge the battery while you stop for lunch along the highway. The i3 battery charges to 80 percent in under 40 minutes.
Battery and Engine Options
The BMW i3 comes standard with an electric motor which is powered by a 33-kilowatt per hour lithium-ion battery. If you want a range-extending boost you can opt to have a two-cylinder 2.3-gallon engine added under the hood. This would mean that your i3 would run on the electric motor until the battery ran out and then it would switch to a gas-powered engine to allow you to stay on the road longer.
Now Available in S
BMW has added another trim level to the BMW i3 starting in 2018. You will now be able to have a sports version of this fantastic electric vehicle. This version will have a quicker acceleration as well as better handling around corners. It will have 14 more horsepower and 15 more pounds-feet of torque. During test drives, the i3s went from zero to 60 miles per hour in a mere 6.3 seconds.
The i3s will also have wider tires, stiffer springs and dampers, and an anti-roll bar. It will be 0.4-inches lower to the ground than the normal i3 model to give it sportier handling and a sleeker overall appearance.
While the i3 reaches a top speed of 93 miles per hour, the i3s will top out at 100 miles per hour.
BMW Interior
The BMW i3 seats four adults comfortably or two adults and three children. In the trunk, you can get up to 15.1 cubic feet of cargo space, plenty of room for groceries. If you need more space, you can fold the back seat flat and have a 36.9 cubic feet of cargo space to take luggage with you on a long weekend.
The new i3 and i3s also come standard with BMW's latest iDrive 6 infotainment system, a 10.5-inch color touchscreen, and a 16-speaker Harmon Kardon surround-sound audio system.
Head to your nearest BMW dealer to learn more about the 2018 BMW i3 and see for yourself what a great electric vehicle this is. Interested in another BMW model like the X3? Learn more about its interior features or schedule a test drive today at Rallye BMW. Also learn more about why BMW models are the right choice for a luxury vehicle over a Mercedes-Benz.